ACC COMMUNITY EVENTS!
ACC is a community where everybody belongs

---

---


Date: April. 2012
Donation humanitarian medical supplies was given out by the African community Council to Somcare Foundation who are helping Somali people find a new health resource! To view pictures go to photo gallery page!
---
Member of parliament for the riding of London North Centre and Parliamentary Secretary for Status of Women was recognized Somcare Humanitarian work and MP Susan Truppe was recognized SOMCARE and without support of African Community Council who made this effort. Thank you people of Canada who donated the medical supplies and Somali Canadian. Thank you everyone who made this possible. " When you Hear the cry heal the pain"
Abdi Maahaay
---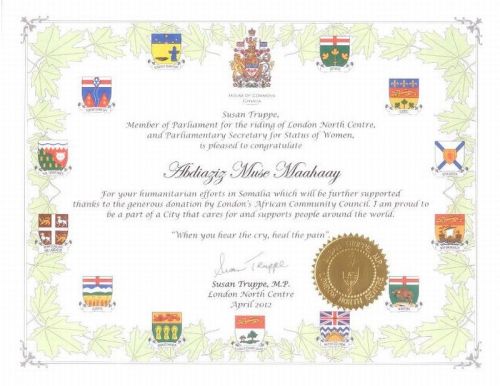 ---
Click here to enlarge picture!
---
ACC (African Community Council London) Homework Club, Montcalm Secondary School
Starts October 12, 2010. Every Tuesday's and Thursday's, 2:30 – 4:30 PM.
This is a special Program helping you with homework; health eating tips, Physical exercise program learning Chinese martial arts.
Check our Photo Gallery page for great events/pictures
for more Information regarding this Program feel free to contacts us.
Email: africancommunitycouncil@live.ca
Please view the video for details.
---